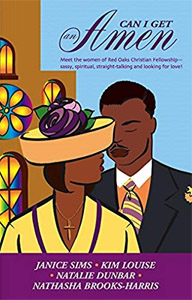 Harlequin Kimani Arabesque March 2005
ISBN 1583146172
"A Love Supreme" by Janice Sims
Landscaper Alexandra Cartwright has no time for men, until she meets sexy construction company owner Jared Kyles. When he joins her for worship at Red Oaks, Alex knows she's falling for him . . . but is it lust or a lasting love?
"Love and Happiness" by Kim Louise
Renata Connor has dedicated her life to Success Unlimited, helping at-risk youth. Devin McKenna is thinking of leaving Red Oaks, until he hears of Renata's program. But when Devin's protégé is accused of stealing, can they find a way to clear his name—and find love in the process?
"A Love Like That" by Natalie Dunbar
Wealthy, elegant Dominique Winston has sworn off men since learning of her ex-husband's infidelity. Then at the Red Oaks' Men's Day picnic she meets gorgeous Blair Thomas, who is leaving town in a few weeks. Is their relationship a passing fling, or does love have more in store for them?
"Love Under New Management" by Nathasha Brooks-Harris
Gifted singer Valerie Freeman gave up on love—and music—after a shady producer stole her heart and her songs. But when she hears the gospel choir at Red Oaks, she can't stop herself from joining. Choir director Norman Grant knows Valerie's his dream woman—but can he approach this fragile songbird without scaring her off?
Read Excerpt