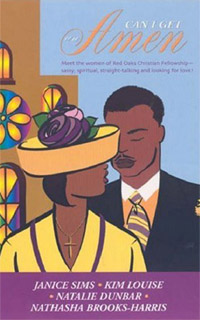 Harlequin Kimani Arabesque March 2007
ISBN 0373830661
ISBN 9780373830664
Contemporary romance centered around a fictitious church is small town Red Oaks, Georgia. Four critically acclaimed authors, Janice Sims, Kim Louise, Natalie Dunbar, and Nathasha Brooks-Harris.
Janice Sims — A Love Supreme
On the site of her latest project, landscaper Alexandra Cartwright meets construction company owner Jared Kyles and is instantly attracted to his toned physique. He invites her to dinner, and she gently refuses, but does invite him to join her for worship at Red Oaks the following Sunday. Afterwards, they share brunch together and discover that they have multiple coCDJon interests, but Alexandra is concerned that their passion may turn out to be more lust than love?
Kim Louise — Love and Happiness
After Renata Connor's younger brother is shot and killed, she dedicates her life to Success Unlimited, a company that works to find jobs for at-risk youth. Freelance writer Devin McKenna is the coordinator of the Outreach Ministry at Red Oaks and is asked by church matron Mother Maybelle to work with beautiful Renata to keep Malcolm, a sweet, but troubled youngster, from the streets. As they arrange for him to work in the church, an initiative that many members resent, especially when items start to go missing. Renata and Devin unite to find the thief and just may end up finding true love in the process!
Natalie Dunbar — A Love Like That
Dominique Winston is surely not looking for love ever since she caught her ex-husband in bed with another woman. Throwing herself into the church sponsored Men's Day picnic, she meets Blair Thomas a college rooCDJate of one of the deacons. A noted womanizer, Blair finds a challenge in the beautiful and wealthy Dominique, who makes a point to ignore him even though Mother Maybelle has told her he might make a good match. Blair, however, seems to be everything Dominique has ever wanted in a man and he's not afraid to pursue her. Will he move on to the next town at the end of his stay or is there more in store for this dynamic duo?
Nathasha Brooks-Harris — Love Under New Management
Graphic artist Valerie Freeman has given up on love, as well as given up on sharing her five-octave voice with the world. Her vow not to sing fades away one Sunday while listening to a gospel program being broadcast from Red Oaks Christian Fellowship Church. When she arrives at the church, the music overtakes her and she impresses the congregation with her lovely vocals. Valerie is lost in the moment, and also perhaps in the gorgeous choir director Norman Lawrence Grant. A reformed playboy, he knows something special has happened, but doesn't know quite how to approach the beautiful and talented Valerie. Will Mother Maybelle step in and nudge the two towards everlasting happiness?
Read Excerpt