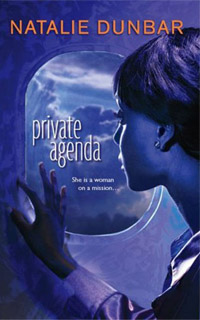 Harlequin African-American Collection April 2006
ISBN 0373285582
Silhouette re-released Natalie's first Bombshell, Private Agenda under their African American collection.
CIA weapons expert Reese Whittaker accepts a deadly undercover mission, going deep inside an international terrorist organization. These traitors killed her brother, and she wants retribution. There's nothing keeping her on the sidelines after the pain of losing her unborn child and having a broken marriage—nothing to keep her from doing what she does best: bring down the bad guys.
But as the mission takes on a deadly new twist, the stakes include a biological weapon that could kill millions—and Reese's husband, a skilled operative now trapped in a nightmare. Deep in the jungles of South America, Reese prays it's not too late to save the man she still loves....
Read Excerpt