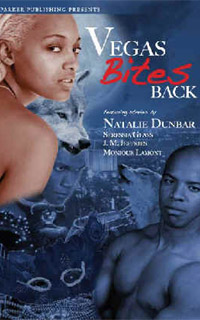 Parker Publishing January 2008
ISBN 1600430406
Featuring novellas from Natalie Dunbar, Seressia Glass, J.M. Jeffries & Monique Lamont
Welcome back to the seductive world of Sin City's French Quarter casino where a roll of the dice can change the future. Take another wild trip below the surface of Vegas style glitz and glamour to a place hidden from mortals to an arena ruled by werewolves, djinns, vampires, and demons. As the Temple Wolves prepare to install a new alpha, the eyes of the human world are focused on the pack as they begin a new chapter. Every step is fraught with danger, risk, and passion. Join Natalie Dunbar, Seressia Glass, J. M. Jeffries, Monique Lamont, and Lady Luck in the world of a golden wolf, a moon goddess, a renegade hell hound, and predestined lovers. And Baby, what howls here, stays here.
Natalie's Novella The Golden Wolf :
When Garen's father and several of the pack werewolves are viciously attacked by a mysterious golden wolf and its followers, Kellie dreams the entire incident. Rallying the pack and striking a deal with powerful healer, they find Dwayne, barely alive. As Garen delves into the mystery and the new threat to the pack, their love grows stronger. Still, Kellie struggles with her place in the pack, resolving the mystery of her origins, and fully realizing her hidden talents that are key to the survival of herself, Garen, and the pack.
Reviews for Vegas Bites
THE GOLDEN WOLF is a tale spun of magic and mystery. Natalie Dunbar has created a beautiful romance with captivating characters and a plot riddled with conflict.
Billie Jo, Romance Junkies
Read Excerpt