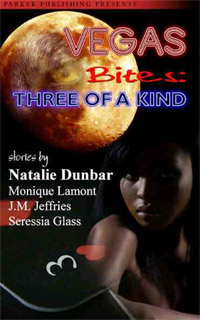 Parker Publishing October 2008
ISBN 1600430406
Featuring novellas from Natalie Dunbar, Seressia Glass, J.M. Jeffries & Monique Lamont
Take one more trip to Las Vegas' werewolf casino the French Quarter. A place where the flip of the card will change your destiny. A place where every fantasy can be had as long as you are willing to pay the price. The Temple pack has just installed a new leader under the watchful eyes of the mortal world and they think the danger has passed them by. But trouble is always one roll of the dice away. Join Natalie Dunbar, Seressia Glass, Monique Lamont, and J.M. Jeffries in this sensual world of a handsome mage, a runaway princess, a sexy double agent, and a captivating were jaguar who has come to place their bets in the Temple pack. And Baby, this can only happen in Vegas.
Natalie's Novella The Wolf That Wasn't :
In San Francisco for a convention, Claire Temple meets a handsome, mysterious, blue-eyed mage and falls in love. When it is time for her to return home, he is anxious that she not linger for reasons impacting her safety. Still, their parting is marred by her cousin Izzy's actions that have far-reaching consequences...
Reviews for Vegas Bites: Three of a Kind :
Las Vegas is always full of excitement, and at the French Quarter casino, the members of the Temple pack are always roaming in and out of danger. In the sequel to Vegas Bites Back; these authors have mixed love, suspense, and family into four stories that keep you wanting more.
Lora McDonald, Romance Readers Connections
In the third installment set at the New Orleans werewolf-owned casino, four authors deliver hot, sexy novellas about the latest happenings of the Temple pack. Glass' story hits hard and sexy with an emotional edge that affects her couple. Lamont delivers a titillating and quick read. Dunbar pens an intriguing and sensual story, while Jeffries delivers a touching story in which love faces many challenges.
Robin Taylor, Romantic Times Book Reviews
Read Excerpt