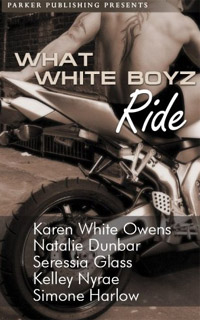 Parker Publishing April 2009
1600430554
Baby Its Cold Outside, Karen White Owens presents Resa Warren who relectantly accepts a job in ice cold Michigan. She meets a handsome skier who sets fire to her heart. But is this sexy ski bum hot enough to keep her warm on long winter nights?
In Natalie Dunbar's Knight On A Just Ski, Alexis Calhoun works on a secluded island. After nearly drowning, she is rescued by a hunky actor on a jet ski. Will their passion survive once they are off the island?
Seressia Glass's Regina Lieberman in Rode Hard is in a rut. She agrees to take a ride on the back of a studly man;s custom-made motorcycle. Can these two unexpected lover keep moving when a secret threatens to derail their desire?
Enjoy the Ride by Kelley Nyrae presents Evangeline Sinclair blowing off steam after passing her bar exam. She heats thes lops with a hot snowboarder in a affair hot enough to melt snow off the mountains. But will their fling last longer than a thrilling down hilll ride?
SImone Harlow's Robey Wade is a girl in control of every aspect of her life until she she takes her first surfing lesson. She meets a handsome surfer who takes her on the wave of a lifetime. Will this mismatched couple learm to go with the Flow and let love rule?